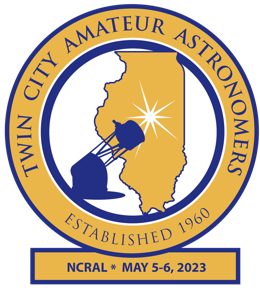 NCRAL 2023 - Welcome
Friday/Saturday, May 5-6, 2023, at Grand Bear Resort near North Utica, Illinois
Events will begin at 7 PM (CST) on Friday and conclude around 9 PM (CST) on Saturday.
You are cordially invited to attend.
Any questions? Please reach out to NCRAL Chair
Carl Wenning

Email:
carlwenning@gmail.com
The Twin City Amateur Astronomers of Bloomington-Normal, Illinois, are thrilled to announce the highly-anticipated NCRAL 2023 - the annual convention of the North Central Region of the Astronomical League. This event will occur on Friday and Saturday, May 5-6, 2023, at the picturesque Grand Bear Resort near North Utica, Illinois. We cordially invite you to join us for this unforgettable experience!
This year's convention theme is "Amateur Astronomy for Amateurs," and we have an impressive lineup of experienced amateur astronomers as our speakers. They will share their expertise and passion for various aspects of the hobby, providing practical advice on everything from observing to member education, public outreach, astronomical diagrams, newsletters, and astronomy club management. With engaging presentations, insightful panel discussions, and a complimentary "solar funnel" workshop (registration is limited), there's something for everyone at NCRAL 2023.
Don't miss out on this exceptional opportunity to immerse yourself in the wonders of astronomy and meet like-minded individuals from across the region. Join us at NCRAL 2023 for a truly inspiring and enriching experience that you'll remember for years to come. We can't wait to see you there!